Culture of Peace in School with NVC
Nonviolent Communication (NVC)
Film: Behind every action there is a need – with subtitles in Nepali
The film is based on the idea that conflicts are inevitable – and they can also be the foundation for development of social and personal skills – if we are able to get closer and focus on the needs behind the conflict. The movie presents tools to understand and face a conflict by describing facts, feelings and needs and asking for a specific action. NVC (Nonviolent Communication) is a universal tool box you can use to solve conflicts and restore trust.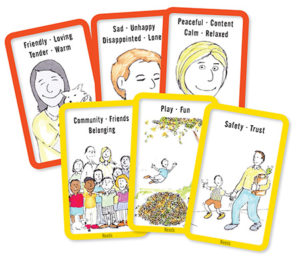 | | |
| --- | --- |
| | Film 1 of 5. Culture of Peace in School with NVC – Behind every action there is a need. Introduction to NVC in schools. We hear a preschool teacher tell about her experience with NVC and how it has changed the social environment in the classroom. We are also introduced to a conflict between two preschool children. |
| | Film 2 of 5. Culture of Peace in School with NVC – From conflict to connection: the four elements of the NVC process. Shows how the teacher resolves the conflict from film 1 using the four principles of Nonviolent Communication (observations, feelings, needs, requests). Scenes from film 1 is elaborated. |
| | Film 3 of 5. Culture of Peace in School with NVC – Taking responsibility for my own feelings. The scenes from film 1 continue and shows in detail how the flashcards with feelings & needs help the children to describe their feelings and needs in a conflict. |
| | Film 4 of 5. Culture of Peace in School with NVC – Empathy for others, understanding others. See the children trying to guess the feelings and needs of others as the teacher helps them to connect more fully and draw further learning from the conflict. |
| | Film 5 of 5. Culture of Peace in School with NVC – From anger to empathy, Mona and Mohammed. Mohammed from the 6th grade and the teacher Mona tell us how their conversation about feelings and needs helped them understand anger and find self-empathy. |
Translation
If you would like to make these films available in your own language 
Please get in touch with me here so that we can make an agreement about the process of translation, production and distribution of the films in your own language.
The videos are free to share as they are. Translating them into a new language requires a contract with me
The purpose of the contract is to assure connection and quality
You get the English subtitles for free to translate into your own language, and create soft-embedded subtitles. If you want me to embed the subtitles on the film, I ask that you cover the cost. No other fee is to be paid.