Culture of Peace in Schools with NVC
Nonviolent Communication (NVC)
Film: 'Behind every action there is a need' – with English subtitles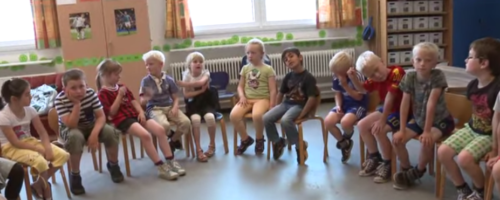 The film 'Behind every action there is a need' is based on the idea that conflicts are inevitable and they can also be the foundation for development of social and personal skills if we are able to get closer and focus on the needs behind the conflict. The film demonstrates how to understand and engage conflicts with Nonviolent Communication (NVC) by describing facts, feelings and needs and asking for a specific action. NVC is a universal process you can use to solve conflicts and restore trust.
NVC can contribute to a peaceful learning environment in schools. See how teachers engage with conflicts in practice and how they promote the feeling of community and a culture of peace. Using NVC, teachers can support children to become well equipped to manage a complex and changing world.
Free materials for schools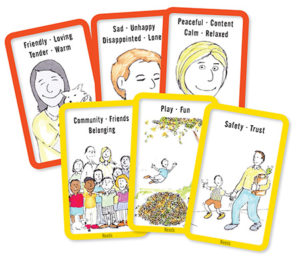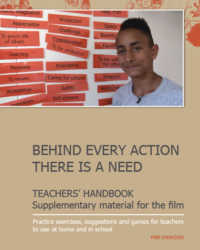 The film is divided into five short films. The first four of these follows one class where we see preschool children from the Agedrup School guided by teachers with NVC to understand their own needs and feelings as well as the feelings and needs of others. Film 1 provides an introduction to a conflict in this preschool. Films 2-4 show the full versions of the clips showed in film 1 and show in detail how the teacher uses NVC to engage with the conflict. Film 5 is about a boy from the 6th grade and his teacher. Children of all ages can learn how to engage with conflicts using the 4 principles of Nonviolent Communication: observations, feelings, needs and requests.
Produced for: The LIVKOM Association
NVC Trainer and Consultant: Kirsten Kristensen, Contact
Sponsored by: The Danish Ministry of Education
Production and Organising: Marianne Rasmussen, Filmkompagniet
English Translation and Text Editing: Tone Productions and Graham Timmins at The Right Word
Illustrated Feelings and Needs Cards: from the book Respectful Parents, Respectful Kids by Sura Hart and Victoria Kindle Hodson
Copyright: Filmkompagniet, Denmark. Filmkompagniet has produced 24 films which demonstrate good working practices in schools. See more on www.filmkompagniet.dk and some of them in English at www.filmkompagniet.dk/english-subtitles/
Translation
If you would like to make these films available in your own language 
Please get in touch with me here so that we can make an agreement about the process of translation, production and distribution of the films in your own language.
The videos are free to share as they. Translating them into a new language requires a contract with me 🙂 The purpose of the contract is to assure connection and quality 🙂
You get the English subtitles for free to translate into your own language, and create soft-embedded subtitles.  If you want me to embed the subtitles on the film, I ask that you cover the cost. No other fee is to be paid.